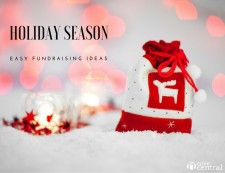 Tips and Ideas discussed by GiveCentral for an easy fundraising campaign around this holiday season.
CHICAGO, November 28, 2017 (Newswire.com) - Why is the Holiday Season important? What are the things that one should keep in mind while going about their fundraising campaign this holiday season? GiveCentral discusses.
Studies show that people donate much more during the holiday season than at any other time of the year. It is the season of Giving. With Thanksgiving, Black Friday, Cyber Monday, #GivingTuesday, Christmas and Hanukkah marking the holiday season, people are filled with gratitude during this time and count their blessings. It gets much easier for nonprofit organizations to capitalize on this and make the most of this season of giving.
But despite it being the season of giving, there is a lot of competition in the nonprofit fundraising space with a lot of organizations vying for the limited amount of funds. It is therefore essential to have the right strategies in place to maximize one's chances of raising donations and attaining all the goals.
Here are a few things that one should keep in mind while going about their nonprofit fundraising campaign this holiday season:
Keeping the spirit of giving and gratitude at the center of one's fundraising strategy
With Thanksgiving marking the start of the holiday season, thanking one's supporters and donors is really important to show the gratitude for all their support. Deepening one's connections with them by treating them as a part of one's community and letting them know of all the good work that they have helped to achieve. #GivingTuesday, Christmas and Hanukkah is a time when giving to others is emphasized. It is no wonder that people donate a lot during this time, in the months of November and December. One should share their stories and make it easier for people to connect with their cause. This opportunity should be used to make phone calls, send handwritten letters and mails to let one's donors and supporters know how much they and their support is valued.
Being open to the idea of gifts in kind
There could be people who feel passionate about a cause but don't have the financial ability to match it. It should be made easier for them to do their bit by accepting gifts in kind. They should be allowed to send their items that they feel could be of use to the cause. This could also be a way of passing their goods to others in need, for people who have too many things in store that are of no use to them any longer. It could be put to some good use elsewhere for someone in need.
Keeping it event specific
The fundraising campaign must be built and marketed around the events specifically. One could have appropriate strategies in place for events like Thanksgiving, Black Friday, Cyber Monday, #GivingTuesday, Christmas and Hanukkah. One could look at what each of these days stand for and target them accordingly making it a part of their fundraising campaign.
Simplifying the donation process
Making it easy for one's donors to give by keeping the donation process as easy as possible is a must. One's donors should be allowed to give on the go, whenever and however they like. One should make it accessible to them through their phones. Having multiple channels to donate could be really helpful.
A sense of Urgency
One should have deadlines for one's campaign and the donation process. A clearly set out beginning and end date would stir a sense of urgency within one's donors. This doesn't mean one won't accept donations if they come after the end date. But just to keep people motivated to meet their giving goals, having deadlines is quite helpful.
Highlighting the tax benefits
A very important aspect of giving in December is the ending of the fiscal year. One must highlight the benefit of donations on taxes — how giving is not only about making a difference in the world and attaining a sense of satisfaction through it but it could also end up saving taxes.
With the holiday season being the most important part of the year for nonprofit organizations to garner funds and support for their cause, it is only imperative that this time of the year be taken seriously and one remains prepared well in advance. Forming a well-thought-out fundraising strategy will come a long way in helping to make the most out of this holiday season for one's successful fundraising campaign.
Source: GiveCentral
Share: