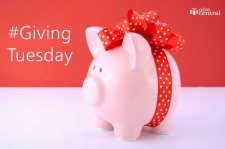 GiveCentral launches the #GivingTuesdaywithGiveCentral Contest asking nonprofit professionals to pitch in with their ideas on tips to increase donations to win attractive prizes.
Chicago, United States, November 14, 2017 (Newswire.com) - November marks the beginning of the charity season. Giving hits a peak in this year-end fundraising season. Statistics tell a story which is difficult to ignore. As much as 31 per cent of the year's donations are raised during this time of the year. #GivingTuesday kickstarts the year-end fundraising season. It is an annual day of giving which is held on the first Tuesday after Thanksgiving. It's on 28th November this year.
In the backdrop of this charity month, GiveCentral has started its #GivingTuesday campaign. A global movement for humanity which kickstarts the year end fundraising. It has launched the #GivingTuesdaywithGiveCentral Contest to mark this campaign for kindness. The contest is beginning today and will go on till the #GivingTuesday. It could well be your Time to Inspire!
The Contest
With its focus on philanthropy and giving, GiveCentral is calling on nonprofit professionals to come up with their favourite and innovative #GivingTuesday tip to increase nonprofit donations. It needs to be shared with a #GivingTuesdaywithGiveCentral hashtag. This not only allows them to be a part of the global movement for humanity by sharing their ideas on giving, but also allows them to win an appealing prize.
Prize
The most original idea would go on to win a really attractive prize. Something much valued by anyone related to the nonprofit sector. For more details on the Prize and the Contest in general, Please check our Facebook page here.
About GiveCentral
GiveCentral is a web based donation platform designed to help nonprofit organizations raise more. By consolidating all collection, fundraising and communication activities in one place, GiveCentral makes it easier for donors to give, for nonprofits to reach out, and for administrators to save time on accounting and data management.
With a philosophy to make it easier for people who are engaged in making the world a better place through fundraising and acts of charity, GiveCentral has launched its #GivingTuesday campaign to make the most of this day of giving. The importance of #GivingTuesday in the world of nonprofit fundraising is already quite evident. It reached a whopping $177 million in donations last year. Almost every year the day is seeing double digits growths in terms of fundraising. GiveCentral is trying to help both non-profit organizations and donors in their act of kindness though its #GivingTuesday campaign.
With this #GivingTuesdaywithGiveCentral Contest, GiveCentral aims to get the best minds in the sector come together. The ideas coming out of this Contest would go a long way in spreading awareness to help nonprofit organizations raise more. These great minds would not only get a platform to share their ideas and contribute to humanity but also win prizes for it. By looking at these innovative tips to increase donations, even other nonprofit organizations could learn from them and be more effective in the movement for doing good.
Source: GiveCentral
Share: